Anxious Charlie to the Rescue (Hardcover)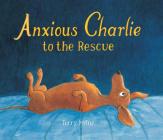 $16.99
Usually Ships in 1-5 Days
Description
---
A friend in need causes an anxious pup to confront his fear of change in this thoughtful and encouraging tale.

Charlie follows the same routine every day: he hops out of bed in the morning, walks the same route to the market, and lines up his stuffed animals just so in the evening. If anything is slightly different, Charlie worries that something bad might happen. But when friends call one morning asking for Charlie's help, he forgets to follow his usual routine. Will something bad happen, as Charlie fears? Or will he learn that change can be good? In this touching story by Terry Milne, readers will fall in love with the nervous little dog named Charlie and his ability to overcome his fear of change.
About the Author
---
Terry Milne's idea for this book came from her daughter's own struggles with anxiety and repetitive behavior. Born in South Africa, Terry Milne now lives in Oxford, England.
Praise For…
---
Astute adults may quickly recognize Charlie's daily routine as likely compulsions related to a canine version of obsessive-compulsive disorder. Though compulsions are rarely so easily conquered in real life, the simple story may encourage young readers who have their own habits and patterns in an attempt to ease their worry. Charming; readers will hope for more adventures for Charlie and his friends.
—Kirkus Reviews

Milne places her expressively drawn all-animal cast in pleasant suburban surroundings while gently suggesting that when Charlie dares to vary his routine a smidge, what happens may be wonderful rather than terrible...this canine storytime companion for Jennifer Black Reinhardt's feline Blue Ethel (2017) could give children whose attachment to daily rituals is more a stage than a symptom a bit of a nudge.
—Booklist Online

...the story provides an accessible introduction to how worry can affect the life of a child, or a dachshund. An appealing story that can serve as a useful conversation starter for discussions about childhood anxiety and dealing with change.
—School Library Journal
Please Note: Not all books displayed on this site are available in the store. Please call the store if you are looking for a specific book.