The Butterfly Alphabet Book (Jerry Pallotta's Alphabet Books) (Paperback)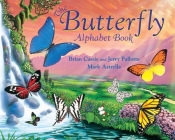 $7.95
Email or call for price
Description
---
Welcome to the wonder and beauty of butterflies! Look through the wings of a Transparent, marvel at the size of the Queen Alexandra Birdwing, and try to find the camouflaged Indian Leaf Butterfly! Learn about these amazing butterflies, and more, as you read from A to Z about a group of the world's most beautiful insects. Jerry Pallotta and Brian Cassie's fun, informative text, accompanied by Mark Astrella's detailed and breathtaking illustrations, will be a sure favorite with both the young butterfly lover and the experienced lepidopterist!
About the Author
---
Jerry Pallotta is an award-winning author of children's alphabet books and imaginative fiction. His books combine interesting facts, detailed research, humor, and realistic illustrations that mesmerize children everywhere. Jerry lives in Boston, Massachusetts. Brian Cassie is a naturalist who has seen and heard thousands of animals on five continents. There are hundreds of animals with double-sound names, including the wonga wonga, which is one of his favorites. Brian is the author of Say It Again. He lives in Foxboro, Massachusetts.
Praise For…
---
This colorful title opens with the high-flying Apollo butterfly and soars through the Zephyr Metalmark. Two or three sentences describe each species unique characteristics and provide general information about the insects as well. Readers learn that he Transparent butterfly of the rainforest has see-through wings and that he Magdalena Alpine's "black wings keep it warm" by absorbing light. The stunning airbrushed illustrations are as bright, bold, and beautiful as the butterflies themselves. The dazzling creatures are shown in their native habitats and are painted to scale. There are, of course, many fine butterfly books, such as Dave Beaty's Moths and Butterflies (Child's World, 1993). However, this attractive new title will spark the interest of youngsters and send them off to do further research in the library and in the field.
—School Library Journal

[P]resents readers with a glimpse into the remarkable world of the butterfly. With more than 23,000 species of butterflies in the world there are plenty of surprises in store for young lepidopterists (butterfly enthusiasts).

As you might guess from the title of the book, The Butterfly Alphabet Book introduces you to twenty six beautiful butterflies from around the world beginning with the Apollo butterfly and ending with the zephyr metalmark. In addition to a breathtaking illustration of each butterfly in its natural habitat, interesting facts are given on the butterflies' habits and life cycle. At the conclusion of the book, the authors remind us to "look and enjoy, but be careful, butterflies are fragile."
—The Young Entomologist Society
Please Note: Not all books displayed on this site are available in the store. Please call the store if you are looking for a specific book.