Balloons over Broadway: The True Story of the Puppeteer of Macy's Parade (Hardcover)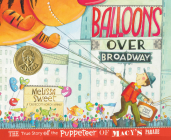 $17.99
Usually Ships in 1-5 Days
Description
---
A Sibert Medal-winning picture book biography and perfect Thanksgiving Day read about the invention of the first balloons for the Macy's Thanksgiving Day Parade! From Caldecott honor artist Melissa Sweet.
 
Everyone's a New Yorker on Thanksgiving Day, when people from every corner of the country rise early or tune in to see what giant new balloons will fill the skies for Macy's annual Thanksgiving Day Parade. In Balloons Over Broadway, Caldecott honor artist Melissa Sweet brings the inspirational story of Tony Sarg, a self-taught immigrant with a wildly creative dream that invented those balloons, to life.
 
The story takes readers through every step of Sarg's journey— from his childhood love of creating marionettes, to the moment this brilliant idea was born in his head, all the way up to the invention of these enchanting floating balloons. Sweet brilliantly captures the essence of Sarg through her signature collage illustrations and thoughtful storytelling. Balloons over Broadway will capture the hearts of all ages sitting around the dinner table, on Thanksgiving Day and every day.
About the Author
---
Melissa Sweet is the Caldecott Honor-winning illustrator of many fine children's books including Some Writer!: The Story of E. B. White, winner of the NCTE Orbis Pictus award, Balloons Over Broadway, a Sibert winner, and The Right Word and A River of Words, both Caldecott Honors. Reviewers have described her unique mixed-media illustrations as "exuberant," "outstanding," and "a creative delight." Melissa lives on the beautiful coast of Maine. In addition to writing and painting, she enjoys gardening, hiking, biking, and cross-country skiing. For more information about the author and her work, visit her online at melissasweet.net.
Praise For…
---
"Sweet's brilliant combination of collage, design, illustration and text give Balloons Over Broadway an amazing richness. . . [no one] will ever see the parade in the same way."—Pete Hamill in The New York Times Book Review

"It's a history lesson, inventor's sketchbook, and inspirational story all rolled into one marvelous mixed-media masterpiece. Sweet's beautifully rendered true-life tale will have your child's imagination soaring to new heights!"—Education.com
"Sweet tells this slice of American history well, conveying both Sarg's enthusiasm and joy in his work as well as the drama and excitement of the parade. . .This one should float off the shelves."—School Library Journal, starred review

"Tony Sarg, the man who invented the giant balloons of the Macy's Thanksgiving Day Parade, has found a worthy biographer in Caldecott Honoree Sweet. The rush that comes from inspiration, the cliffhanger moments of creation, the sheer joy of building something and watching it delight the multitudes—Sweet captures it all in what is truly a story for all ages"—Publishers Weekly, starred review

"This clever marriage of information and illustration soars high."—Kirkus Reviews, starred review

"A joyous piece of nonfiction that informs and delights in equal parts."—Booklist, starred review

"Sweet's whimsical mixed-media collages, embellished with little dolls she made herself out of odds and ends, reinforce the theme that, for Sarg, work was play."— Horn Book, starred review
"Sweet's artwork is as joyous an affair as its subject." --Bulletin
Please Note: Not all books displayed on this site are available in the store. Please call the store if you are looking for a specific book.