Raven: A Trickster Tale from the Pacific Northwest (Paperback)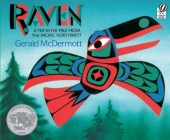 $7.99

Usually Ships in 1-5 Days
Description
---
Raven, the trickster, wants to give people the gift of light. But can he find out where Sky Chief keeps it? And if he does, will he be able to escape without being discovered? His dream seems impossible, but if anyone can find a way to bring light to the world, wise and clever Raven can!

About the Author
---
GERALD MCDERMOTT (1941-2012) was an internationally acclaimed author-illustrator and the creator of numerous award-winning books and animated films for children. Winner of the Caldecott Medal and two Caldecott Honors for his picture books, he was also a consultant to the Joseph Campbell Foundation on mythology in education. His acclaimed series of trickster tales consists of Raven (a Caldecott Honor Book), Zomo the Rabbit, Coyote, Jabuti, Pig-Boy, and Monkey, each of which draws from the folktale traditions of a different part of the world. www.geraldmcdermott.com
Praise For…
---
star "Amusing and well-conceived."—School Library Journal (starred review)
star "Elegant...masterfully executed."—Publishers Weekly (starred review)
"Mr. McDermott is not only a picture-book artist of the first rank, but also one of our most gifted retellers of myth and folk tale."—The New York Times Book Review

Please Note: Not all books displayed on this site are available in the store. Please call the store if you are looking for a specific book.